Valet Product Line has transitioned from a full service operation (manufacturing, marketing, wholesale, some retail) to manufacturer only. It took over a year to make this transition in entirety; we sold all our SBV product to a US distributor who will be selling our products exclusively in the US, both wholesale and retail.  Our main concentration now is volume production, marketing and selling container loads to our US distributor and foreign distributors and other related organizations worldwide. We can do this because our products are "one of a kind" and desperately needed by 100's of millions the elderly and mobility challenged worldwide (40 million in the US alone). We have no competition and are the owners and only suppliers.  We are negotiating a container load to Canada now.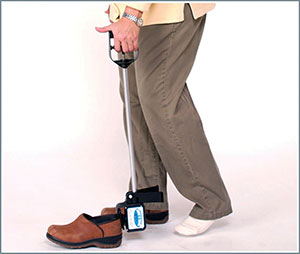 Product Info
Brand Name: Shoe & Boot Valet
Product Description: Daily activity assist device for putting on and removing footwear.
GTIN: 00853631002000
Bar Code Type: UPC-A
Bar Code Number: 853631002000
Category: 15.0831.5489 Disability Aids – (Non-Prescription)
Depth: 1.75 (Inches)
Width: 4.875 (Inches)
Height: 31 (Inches)
Gross Weight: 1.35 (Pounds)
Net Weight: 1.00 (Pounds)
Additional Information:
The Shoe & Boot Valet is a non-prescription, breakthrough device that represents a significant advance for people with difficulty putting on and taking off footwear due to limited or painful mobility.
Shoe Boot Valet • 918-289-1474 • Tulsa, Oklahoma
Copyright 2023 Shoe Boot Valet All Rights Reserved. Privacy Policy