Christmas is here and what to buy for your friends and loved ones? You want to purchase something that they will enjoy, use or maybe even something they desperately need.  Maybe a gift that will relieve their pain doing normal daily activities and give them back some of the independence they have lost over the years due to the aging process, arthritis, diabetes or one of dozens other disabling afflictions. Maybe your Dad just had back surgery or a major joint replacement and his mobility is dramatically restricted for the next 6-8 months or your sister is pregnant and has bending issues.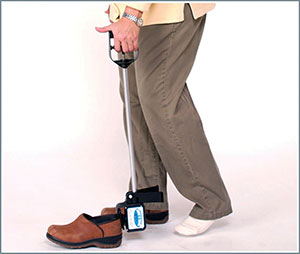 Product Info
Brand Name: Shoe & Boot Valet
Product Description: Daily activity assist device for putting on and removing footwear.
GTIN: 00853631002000
Bar Code Type: UPC-A
Bar Code Number: 853631002000
Category: 15.0831.5489 Disability Aids – (Non-Prescription)
Depth: 1.75 (Inches)
Width: 4.875 (Inches)
Height: 31 (Inches)
Gross Weight: 1.35 (Pounds)
Net Weight: 1.00 (Pounds)
Additional Information:
The Shoe & Boot Valet is a non-prescription, breakthrough device that represents a significant advance for people with difficulty putting on and taking off footwear due to limited or painful mobility.
Shoe Boot Valet • 918-289-1474 • Tulsa, Oklahoma
Copyright 2023 Shoe Boot Valet All Rights Reserved. Privacy Policy