The Shoe Boot Valet is the only device specifically designed to pull on and take off footwear and requires little to no bending or reaching. Don't take our word for it; find something that even comes close to providing this service. It is the only device with a gripping mechanism that allows you to do this task sitting or standing. The SBV takes little to no grip strength because the cam closes on the heel of the footwear and when lifted; the harder you pull, the tighter it grabs.  All you have to be able to do is cup your hand under the handle to lift the shoe or boot and engage the gripping mechanism.
As people get older and the aging process progresses, many members of the elderly population lose different degrees of mobility, which causes a loss of independence concerning their daily living needs. A few of these problems derive from: muscle weakness, joint problems, pain, disease, neurological (brain and nervous system) difficulties and arthritis; all of these common conditions in older people can contribute to mobility problems. Sometimes, several mild problems occur at one time and combine to seriously affect mobility.
When it comes to assisted dressing, the Shoe Boot Valet (SBV) is so much more than just a long shoe horn. While a regular shoe horn requires you to bend down and manually maneuver the dressing tool, the SBV has a gripping mechanism that allows the footwear to be put on with no bending or reaching required- standing or sitting down. It also has an attached bootjack that pops off any shoe or boot with ease.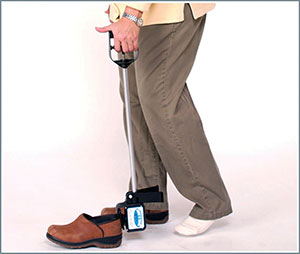 Product Info
Brand Name: Shoe & Boot Valet
Product Description: Daily activity assist device for putting on and removing footwear.
GTIN: 00853631002000
Bar Code Type: UPC-A
Bar Code Number: 853631002000
Category: 15.0831.5489 Disability Aids – (Non-Prescription)
Depth: 1.75 (Inches)
Width: 4.875 (Inches)
Height: 31 (Inches)
Gross Weight: 1.35 (Pounds)
Net Weight: 1.00 (Pounds)
Additional Information:
The Shoe & Boot Valet is a non-prescription, breakthrough device that represents a significant advance for people with difficulty putting on and taking off footwear due to limited or painful mobility.
Shoe Boot Valet • 918-289-1474 • Tulsa, Oklahoma
Copyright 2023 Shoe Boot Valet All Rights Reserved. Privacy Policy